YOURS & MINE | BLEND ETIQUETTE
ABOUT THE DISTILLERY 
Blend Etiquette was founded by Lindon Lark and Geordan Ellis from their love of good booze, and from the very start they have always championed quality over quantity.
If the surname Lark rings a bell, it's for a good reason. Lindon comes from a long line of renowned Australian distillers; notably from Lark Distillery and Kangaroo Island Spirits. Lark Distillery was founded in 1992 by Lindon's Uncle and Aunt, Bill and Lyn Lark, and was the first distillery in Australia to produce Single Malt Whisky. Lindon's father Jon also had a strong interest in distilling and a few years later he and his wife, Sarah, started Kangaroo Island Spirits (KIS), Australia's first distillery to focus solely on producing gin. Having descended from Australian distilling royalty, it's no surprise that Lindon has also ended up in the industry.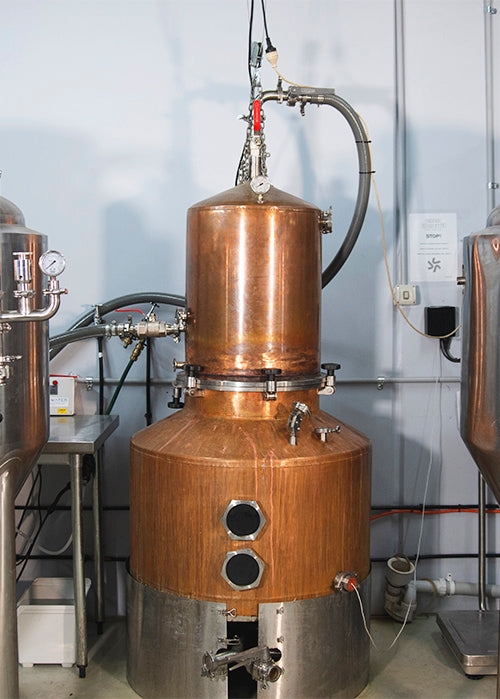 Lindon and Geordan met back in high school, but things became more serious when they began working together at KIS. Under the guidance of Jon, and drawing on everything he'd learnt at KIS, Lindon founded the Blend Etiquette brand in 2016 with the release of their flagship product Snake Oil Tonic Syrup. It was a traditional style of tonic made from real cinchona. Geordan came on board early on and she has been managing the production side of the business ever since. Although the Snake Oil Tonics were going well, they made a rookie error with the trademarking (or lack thereof) and someone else ended up sneakily taking their name…
Geordan and Lindon have always loved the process and care that Australians give to special bottles that are put aside for special occasions, and they often liken it to traditional Japanese tea ceremonies. "One of the main purposes of the tea ceremony is for the guests to enjoy the hospitality of the host in an atmosphere distinct from the fast pace of everyday life." They were inspired by this and wanted to build a business and a brand that championed the process behind how Australian's drink as well as what they drink, and the name 'Blend Etiquette' captured this sentiment perfectly.
They've been Blend Etiquette ever since, and now operate out of a 350m2 warehouse in Darlington, just 30 minutes south of Adelaide. In 2018, Geordan and Lindon decided to deviate slightly from tonic and head into spirit production with the launch of their Yours & Mine Gin. By this time, Lindon was working full time as an Architecture Graduate and really had no intention of working in the distillery. The business looked like it was just starting to take off when Geordan fell pregnant with their daughter Charlie - Lindon decided to give notice to the Architecture firm 4 weeks prior to Geordan's due date. They thought that would be enough time for him to ease into a role in the distillery and for the two of them to prepare for Charlie's arrival. As always, life had other ideas and Charlie arrived the day after Lindon finished up – all three of them ended up back in the distillery just 7 days later to finish a job in time for the Christmas rush! It's been chaos ever since, but they love it. 10-month-old Charlie does a wonderful job of looking after customer relations alongside Murphy, their Border Collie, who also does a great job of keeping the customers happy.
From Left: Charlie Lark (baby), Geordan Elliss, Murphy (dog),Lindon Lark, Fred McClure, Julia Jakacic & Kat Mercader
Since those early days, the business has grown rapidly in every sense; alongside the family of four now sits three additional staff members in production, one staff member in the marketing space, a beautiful 300L copper pot still named Frank[enstiene's monster], and two new delicious gins: Floral as Hell and Strangely Savoury. When Covid hit, the team branched into producing hand sanitiser (along with just about every other distillery in the country), before pivoting their entire business into a contract manufacturing distillery. They still focus heavily on their own craft brand, but also now produce hyper bespoke, premium gins for a range of clients that have a vision but not the tools or skills that are essential for making great spirits. Most notably, they recently teamed up with Maggie Beer and her family to produce a range of spirits, each a toast to one member of Maggie's family.
ABOUT THE GIN 
Geordan and Lindon both grew up on the coast and they share a love of a good martini. When devising their first gin release, it seemed only natural to create something that they could enjoy together; Yours & Mine Gin is a coastal inspired gin that is nothing less than perfect in a martini. When the Blend Etiquette team set out to develop their recipe, they drew on the experience and advice of Jon and Sarah Lark who set them up with some initial homework. As an exercise before starting anything else, Lindon and Geordan were tasked with sampling over 80 botanicals from the Lark's gin garden as well as trialing their key botanicals in different ways. Jon and Sarah's advice certainly seemed to pay off; Geordan and Lindon finalised the recipe for the Yours & Mine Gin on their first go and haven't looked back!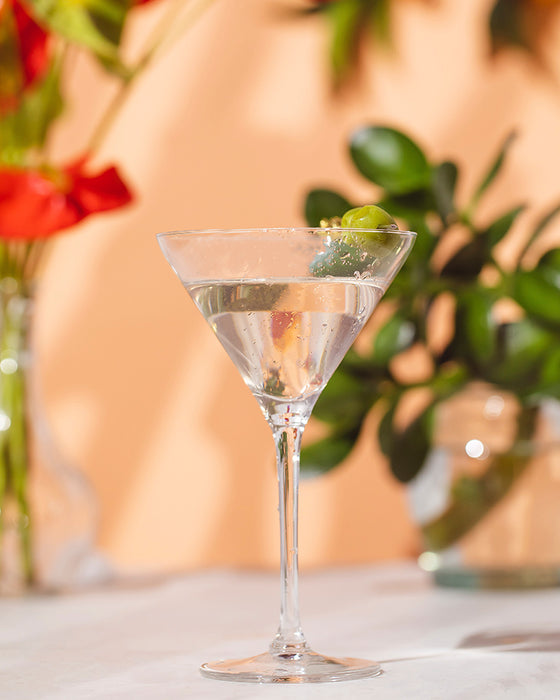 Like many other Australian distilleries, it was important for the Blend Etiquette team to feature native Australian botanicals, but their emphasis has always been on using fresh ingredients. Featuring botanicals such as angelica, coriander, long pepper and vanilla, Yours & Mine Gin was Lindon and Geordan's ode to gin. With heavy notes of juniper, it is a wonderful traditional London Dry gin with a slight twist that was made with gin aficionados in mind. Yours & Mine Gin features earthly flavours of False Cardamom and Sea Parsley, with lemon zest and native lemongrass coming through followed by a gentle spice. The gin is sophisticated, clean, perfectly balanced and approachable enough to be easily enjoyed as an everyday gin.
While Yours & Mine Gin goes well with just about anything, Geordan and Lindon recommend trying it alongside a good old-fashioned serve of fish and chips by the water – "have a greasy plate of fresh, South Australian seafood (oysters, prawns, squid, tuna) and then sit back to a Seaside Martini. It'll rock your socks off!"
OTHER PRODUCTS IN THE RANGE 
Just last year, the Blend Etiquette team released what was going to be their first take on a sloe gin, but it turned out sweeter than they'd originally intended. They balanced it well with the addition of strong bitter flavours from gentian root (a flowering herb). It turned out to be a happy accident; they ended up creating their delicious Little Bitter Plum Gin which sits about halfway between a sloe gin and Campari (yes, for those who are wondering, it makes a cracking Negroni). At home, Geordan and Lindon like to serve their 2021 vintage of Little Bitter Plum neat over ice.
Little Bitter Plum vintage 2022 has just been released and the Blend Etiquette Team has partnered up with Mischief Brew to create a limited release of Little Bitter Plum Gin & Tonic cans. This year's vintage is sitting at a higher ABV of 38% - it sounds to us like those cans are going to pack a punch and we can't wait to try some!
Of course, keep your ears open and eyes peeled for upcoming releases of whisky, rum, vodka, brandy and vermouth. Geordan and Lindon are itching for their new toys to arrive from Germany so they can get cracking on these! If recent council applications go to plan, it sounds like we might even have a distillery door to visit by Christmas; the perfect chance to try all of their new products for yourselves!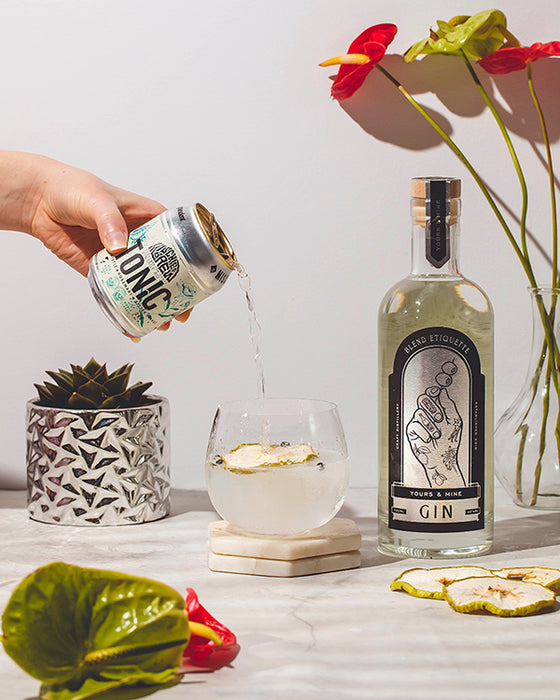 TASTING NOTES
Gin type – London Dry
Appearance – Clear, bright
Botanicals – Lemon, vanilla, sea parsley, false cardamom, native lemongrass, long pepper, juniper, coriander, angelica
Aroma –  A classic juniper forward gin with soft savoury complexity
Palate – Lemon and native lemongrass round out earthy notes from false cardamom and sea parsley
Finish – A hint of vanilla takes the edge off a warm pepper spice finish
Our perfect G&T
• 30ml Yours & Mine Gin
• 90ml Mischief Brew Vintage Rd Tonic
• Dehydrated Apple and Pepperberries