Welcome to Garden Street Gin Club
Our online, subscription-based club lets you enjoy small-batch, artisan gin every one or two months – perfect for trying new flavours and expanding your gin horizons. Your gin is delivered to your door in a beautifully presented box along with perfectly matched tonics, garnishes, snacks and other treats.
Your subscription is totally flexible—you can cancel or skip a delivery at any time, so there's no risk of being locked into a contract. Plus, we offer a money-back satisfaction guarantee on every box.
Whether you're a gin connoisseur, or just getting started on your gin journey, Garden Street Gin Club is the perfect way to explore new flavours and treat yourself at the end of the day.
WHAT'S IN A GARDEN STREET GIN BOX?
You'll receive a beautifully packaged and carefully curated box, worth around $140, but delivered to your door for only $99. The contents of your box is different each month, but always contains:
Full sized 700ml bottle of Australian craft gin
2 x matched tonic waters
Delicious snacks
Bag of matched garnish
Magazine
Gift
**PLUS** a gorgeous welcome pack including two crystal gin glasses valued at $77
In addition, you'll receive exclusive invitations to online gin masterclasses, 10% discount off all products in our online shop, and a newsletter featuring distilleries, stories and recipes.
Explore our previously featured gins or see what's in this month's box and try it for yourself.
HOW IT WORKS
No lock in contracts
Select from our 1 or 2 month gin subscription packages. No lock in contract or cancellation fees.
hand selected gins
Our gin specialists select a craft gin each month (often exclusive and not available elsewhere in Australia).
delivered to your door
Your gin and assorted goodies are then shipped to you on the 5th of the month.
THE CLUB MEMBER EXPERIENCE
Learn more about what you'll receive as a club member, how we select your gin and pairings, and much more.
A Distillery Tasting Experience
Every year we scour all four corners of Australia and sample hundreds of gins to find the most incredible selections. With our accompanying pairings and magazine you'll learn everything we know and enjoy an experience you could otherwise only get at the distillery.

Savour Award-Winning Gin
We sample literally hundreds of gins each year, with only the top 12 making it into our monthly boxes. These include regional and national award-winners, limited editions, custom collaborations, plus some surprises.

Discover Perfect Pairings
Every month we test dozens of gin, tonic and garnish combinations to find the perfect combination. You'll learn about these botanicals and flavour profiles in your accompanying magazine.
A Full-Colour Magazine
Every box contains a gorgeous magazine which introduces the distillery and gin of the month, provides tasting notes, recommended cocktails, food recipes, and more.

Experience New Flavours
Every month you'll receive a fresh box, and a completely different gin experience. You'll enjoy new flavours, interesting combinations, and little surprises along the way.

Support Australian Distilleries
With our club, we don't just feature the big brands—you'll discover unique and boutique craft gins from all across Australia, supporting local distilleries in the process.
Recommended by 96% Of Customers
From over 1,700 independent customer reviews, we're rated an average of 4.8 stars and 96% recommend us.

Outstanding Value For Money
By connecting you directly to distilleries we cut out the middlemen and provide exceptional value for money. Most boxes have a retail value of $140, but are delivered to your door for only $99!

Flexible Subscriptions
Worried you'll end up with too much gin? Choose to have your box delivered every two or three months instead, or skip a delivery whenever you need it.
Sustainably Packaged & Shipped
Your box is 100% sustainably packaged and shipped using a carbon neutral shipping company, and our gins come in beautiful, reusable glass bottles.

No Sneaky Tricks
We're not like many other subscription companies. Our service is completely transparent, and we always aim to do the right thing. For example, we'd never sneakily post a box before telling you about it. Plus, we offer a no-questions-asked moneyback guarantee.
DECEMBER'S GIN OF THE MONTH
** NOW SOLD OUT! **
PUSS & MEW'S HONEY COCONUT GIN | NUNAWADING, VIC
Puss & Mew's Honey Coconut Gin is steeped in fresh Castlemaine Honey straight from the beekeeper. This is then beautifully complemented with coconut, a traditional, yet iconic, pairing and complemented by a hint of fig and warm spices. Your palate will experience the layers of this gin beginning with the nutty flavour of toasted coconut, the warmth of the spices in between and ending with the smoothness of Australian honey.
The Puss and Mew team categorise this gin as sweet by name, not by nature, and they are spot on. It is not what you expect, in a good way - it's deliciously smooth and spicy across the palate which makes it perfect when enjoyed on the rocks, and fantastic with a mixer or in a cocktail.
Update: We have now Sold Out of December's gin of the month! All subscriptions will be automatically allocated January's box.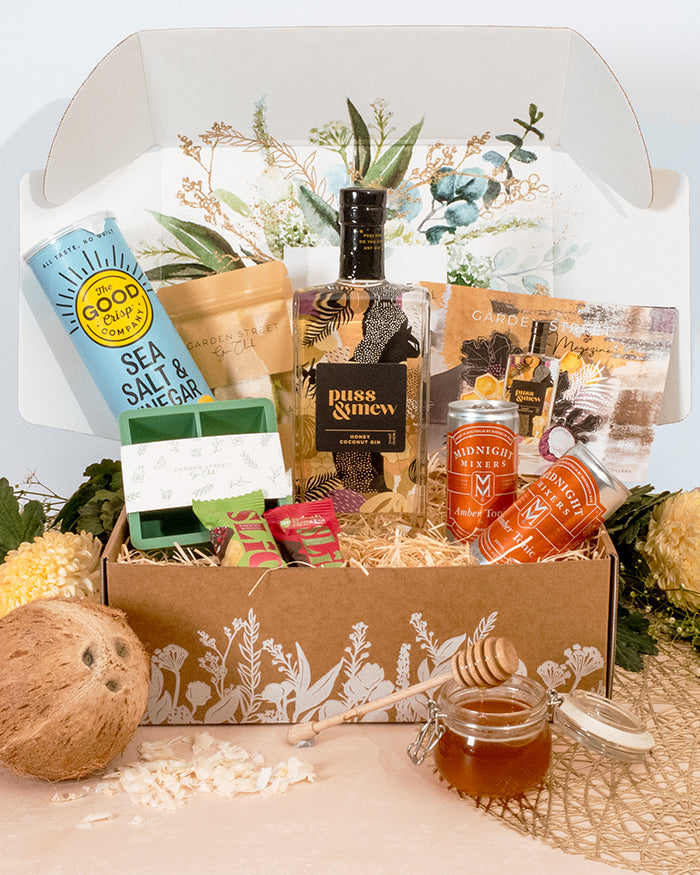 December's box contained: **SOLD OUT**
Puss & Mew Honey Coconut Gin 700ml
2 perfectly paired Midnight Mixers Amber Tonics
Dehydrated apple garnish
Delicious snacks
Our gift: Garden Street Super Cubes Ice Tray
Our December magazine full of stories, tasting notes and recipes
Update: We have now Sold Out of December's gin of the month! All subscriptions will be automatically allocated January's box.
Includes free delivery
Only $99.00 Per Box!
(Total value $140)
CHOOSE YOUR FREQUENCY
Your first box will be dispatched immediately. Charges for future months are processed on the 3rd of each month that you're due for a delivery.

Don't worry, we'll always let you know in advance which gin we're featuring next. You can skip a box, change frequency or cancel at any time.
Our Guarantee
We're confident you'll love your boxes. If for any reason you're not completely delighted, we'll simply switch out your bottle for another premium craft gin.
Have a question?
FREE DELIVERY
All Garden Street Gin Club subscriptions come with FREE delivery Australia-wide
NO LOCK-IN CONTRACTS
Pause or cancel your Garden Street Gin Club subscription anytime - no charge!
CURATED EXPERIENCE
We curate each one of our monthly boxes to ensure you have the best gin experience at home.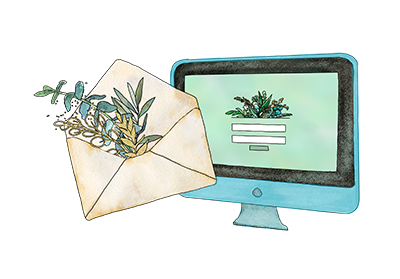 Skip or Cancel Online
Skip a box, change your frequency, or cancel—do it all online in a few clicks. There's no need to call us, and we don't charge any hidden fees.
In addition, we'll always send you an email profiling the next month's box before the deadline closes. This way you can relax, knowing you're in full control of your subscription with no unexpected charges.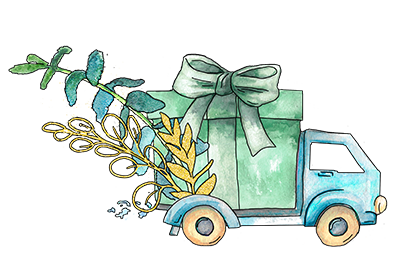 Try Your First Box Risk Free
Because you can skip a box or cancel at any time, it's easy to try your first box without being locked into a subscription.
But that's not all. We guarantee you'll love your first box when it arrives. If not, simply send it back to us and we'll promptly refund you the $99 or swap it over for another gin, no questions asked!
✕