Barossa Distilling Co. | Australian Garden Gin
ABOUT THE DISTILLERY 
Barossa Distilling Co. have done it again. Back in September last year, we were thrilled to share their delicious Generations Gin with you all. Since then, the team has been diligently building their range to please gin lovers around the country; they've been creating and tweaking new gin recipes, and have even branched into completely new product lines. One of their recent releases, Australian Garden Gin, happens to be a new favourite of ours; we're very excited to share it with you all and fill you in on what the team has been up to since we last caught up with them.
The Barossa Valley has always been known as one of the world's greatest wine regions. More recently though, it has become a must-visit for anyone who appreciates fresh produce, art, culture, scenic road trips, handmade goods, and of course, craft beverages.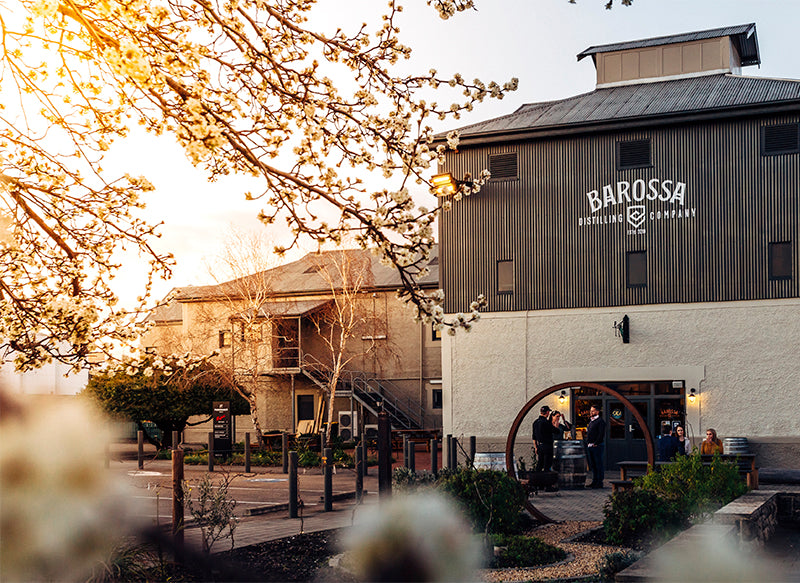 Head Distiller Neil Bullock had no grand plans or long-held desires to be a distiller. It was more of a happy accident after chatting with a couple of winemakers (over a few wines of course) and hatching a plan. They wanted to create not just great gin, but a business that could stand the test of time as a respected producer of world class spirits. They've now built a solid team of experts across marketing, cocktail shaking, distilling, production and venue management; they have also invested in two stills, affectionately known as "the big still" and "the small still" to help them scale up their production.
The Barossa Distilling Co. team were the first in the area to distil gin, and they've managed to put not only themselves, but the entire Barossa Valley, on the map for gin lovers.
For the Barossa Distilling Co. team, it's not just about the drinks but the experience overall. If you're headed to the valley, be sure to pay their Distillery Bar a visit. Located in the gorgeous Provenance Barossa, an old Penfolds production building, the Distillery Bar is a celebration of all things gin, spirits, cocktails and flavours. Guests can choose to sit inside or outside in the Botanical Garden to enjoy a range of gin tasting flights and cocktails that are to die for.
About Australian Garden Gin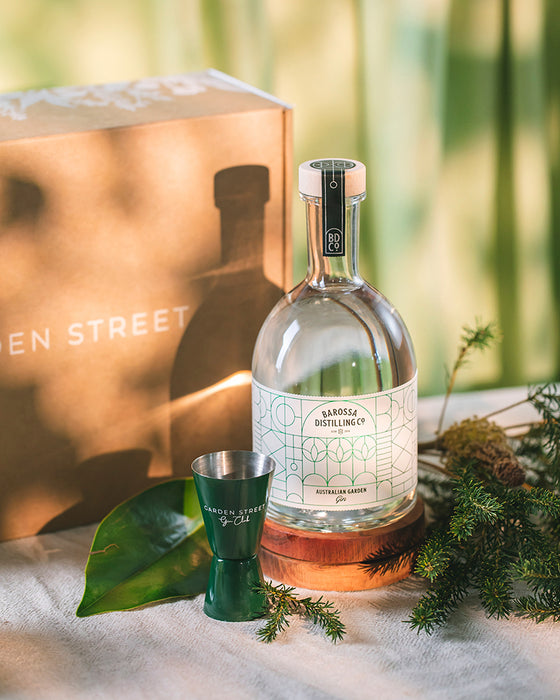 The inspiration behind Barossa Distilling Co.'s Australian Garden Gin was nothing other than the quintessential Aussie garden. With such incredible climate diversity across the continent, we're blessed with an incredible array of native botanicals that distillers can choose from. After multiple recipe trials, the Barossa team settled on flavours from their very own backyard; lilly pilly, pink peppercorn, bee pollen, lemon verbena, lemon myrtle, salt bush, lime, lemon and the incredible Buddha's hand citrus (which wasn't quite from their own garden, but just an hour or so up the road in the Riverland).

With each iteration of the Australian Garden Gin recipe, the team made incremental improvements by tweaking the quantity of each botanical, and how they were treated in the distillation process. Changes included whether it was added to the pot or the botanical basket, and whether whole fruit or just the peel was used. They also tried a few different still combinations to enhance to the overall mouthfeel and flavour. The final product is a delicious gin in that stands out from the crowd with a refreshing hint of lemon citrus and a depth that will keep you coming back for more.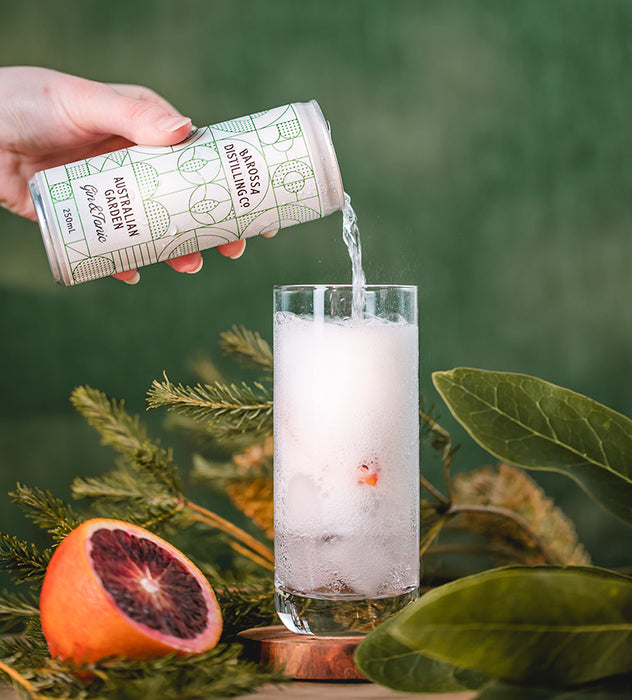 GARDEN GIN & TONIC CANS
What could possibly be better than a delicious gin and tonic pairing? A G&T in a can that tastes just as good! There are RTD's (ready-to-drink for all those not in the loop) popping up everywhere in the market, but many promote features (low sugar, no sugar etc.) that come at the expense of flavour. The Barossa team set out to create something that boasts the convenience of a pre-mixed drink, with the full flavour and characteristics of a properly made gin and tonic. To create their cans, they've used their Australian Garden Gin at a whopping 6.2% ABV
(at 1.2 standard drinks, these are more of a bar serve than your average 4.5%) and halved the sugar of a regular tonic mixer. We're all very impressed with the result!
Other Products in the Range
There's been quite a few other projects in the pipeline since we last met up with the Barossa Distilling Co. team in September last year. While the tasting room and team have remained fairly consistent, new product development has been off the charts!
Currently in the works is the second iteration of their premixed cocktails, which were incredibly popular during lockdowns. Many experiments have led to the creation of new liqueurs and cocktail syrups; soon customers will be able to make their own world-class cocktails at home. Think strawberry liqueur that tastes like a freshly-picked strawberry, and coffee liqueur that tastes like – you guessed it – real coffee. From what Neil tells us, we might be seeing these hit our shelves very soon.
After months spent producing gin and building up stock for the silly season, the Barossa Distilling Co. team has cocktails at home turned their attention to malt, yeast and barrels as they kick off whisky production. Their very first limited-edition whisky is likely being released as you read this...
Finally, would it really be 'Barossa' if we didn't touch on their incredible Shiraz Gin? We're excited to share that Neil let us in on another little secret; since 2019, they have been quietly aging Shiraz Gin in some incredible fortified wine barrels from the Barossa Valley. It's taken on a wonderfully Tawny-like characteristic that is as smooth as silk. Keep an eye out!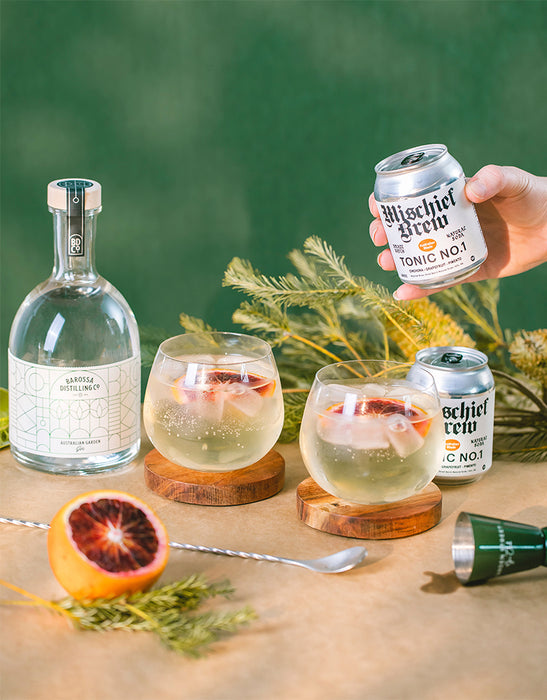 TASTING NOTES
Gin type – Contemporary
Appearance – Clear, bright
Botanicals – Lilly pilly, pink peppercorn, bee pollen, lemon verbena, lemon myrtle, salt bush, lime, lemon, Buddha's hand citrus
Aroma –  Punchy citrus, with a lush yet balanced native bouquet of herbs and florals
Palate – Refreshingly citrus forward; lime with notes of lemon sherbet and spicy undertones
Finish – A lingering depth that will keep you coming back fortaste after taste
Our perfect G&T
• 30ml Australian Garden Gin
• 90ml Mischief Brew Tonic No.1
• Dehydrated Blood Orange