Tinberry Distilling | Signature Gin
ABOUT TINBERRY DISTILLING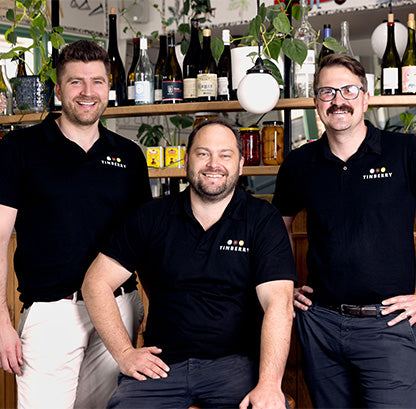 The Tinberry journey started about five years ago in the same way as many distilleries that have come before – over one too many drinks. Brothers Andrew and Ben Newbery were enjoying a gin or two with their school friend, Scot Tyndal, when they mused to themselves 'why can't we create a gin that will comfortably sit on a shelf alongside some of the big names?'. 
Andrew, Ben and Scot each had a background that they knew would come in handy when starting up a distillery. Ben is an engineer with plenty of skills to build the equipment they need, Scot is great at selling gin given the sales experience under his belt, and Andrew being a keen cook has a well-rounded palate that is useful for creating recipes. All three of them work full-time and have at least one child under the age of three, so although the ideas came together quickly, getting things off the ground was a slow burning process. 
Over the first two years, the guys admit they had a bit of fun and didn't take anything too seriously. They played around with making their own alcohol from scratch, ran the occasional small distillation, and at one point Ben and his wife even went overseas for a year-long holiday! Eventually, tackling Covid was thrown into the equation, but it ended up being the push they needed to start getting serious. Ben began building their first 50L still while the team started the arduous process of organising all the 'boring' things like applying for licences and waiting for approvals. 
When developing new recipes, the name 'Tinberry' was used as more of a working name than anything else. The name is a combination of their surnames, Newbery and Tyndal, with an added twist. They deliberately misspelled the name as a cheeky little nod to the '99% of people who spell their names incorrectly' in their day-to-day lives. Over time, they found that they just kept coming back to the name Tinberry, and eventually it stuck.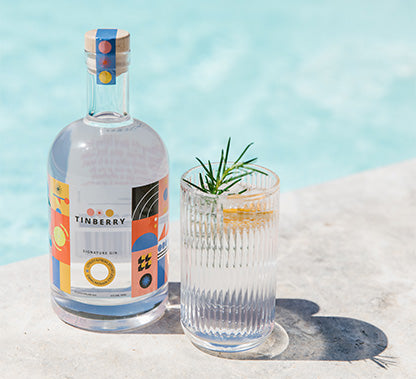 Nowadays, the Tinberry team works from a little warehouse just outside Adelaide city and produces their two incredible gins with their brand new 400L still. Although the space is not quite suitable for a tasting room, it's something they're looking into; their dreams are to create a shared destination space that will feature artisan food, beer, wine and retail producers. 
Deeming their first release 'a huge success' would be an understatement; of nearly a thousand gins submitted to the San Francisco Spirit Awards in 2022, Tinberry's Signature Gin was one of only 11 Australian gins to be awarded Double Gold. Bagging a Double Gold from one of the world's most prestigious spirit competitions is very impressive, to say the least, and we're so excited to be sharing it with you all this month! 
About TINBERRY SIGNATURE Gin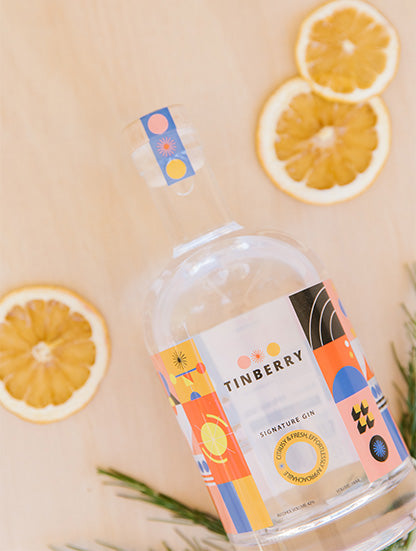 When Ben, Scot and Andrew set out to make their first gin, they had one clear goal in mind: to make the best tasting gin that they possibly could. They also wanted to make something that was 'sessionable' in the sense that it would be great for those wanting to have one gin on a regular Tuesday night, but also for those who wanted to enjoy a couple of drinks with their mates on a Friday. They'd noticed that many new gins in the market, although delicious, were so unique that you'd only really want one glass. Instead, they wanted people to enjoy a second (or even third) glass, rather than popping it on the gin shelf for a few years in between drinks. There were many times throughout their journey where they thought they'd never get there (though they figured at least they'd have a lifetime supply of gin if it didn't work out!); this uncertainty made day one of bottling and labelling their first release extra special. 
When developing the recipe for their Signature Gin, they distilled individual botanicals to experiment with flavour profiles and to test how they reacted during distillation. As they got a feel for the flavours, they shifted to distilling various botanicals together in a single run on their 5L still and it didn't take long before they found a combination they loved.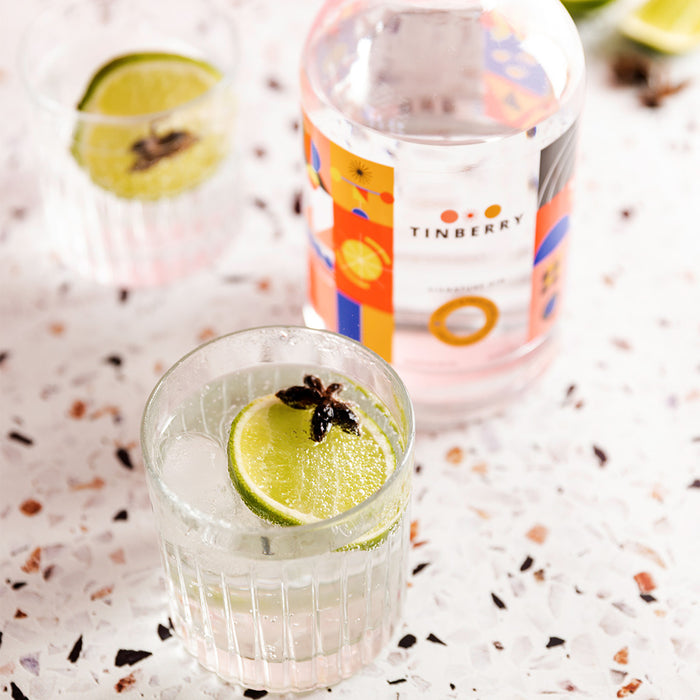 Scaling up the recipe to suit their larger 50L still did present a few more challenges than they thought it would. They initially multiplied the ingredients by 10 but the gin came out cloudy and didn't taste nice at all – a far cry from their original delicious recipe! 
It took them another 8-9 runs on the larger still to figure out what they were doing, and they've now come up with a unique method that works perfectly. Without giving away too many secrets, some botanicals are soaked, some spend the whole time in the distillation pot, some only sit in the gin basket, and some are added halfway through the run. 
In our opinion, Tinberry's Signature Gin hits the mark in every way that they wanted it to. It is a delicious citrus-forward gin with notes of cinnamon and lavender shining through, with a smooth and warming finish. It's well balanced with 11 different botanicals and we can confirm that it is indeed 'sessionable' - we've certainly found ourselves going back for a second or third Tinberry G&T! It pairs perfectly with Capi Premium Tonic and a slice of orange in the summer months, and its bright, fun label ties in beautifully with the refreshing tasting experience. 
Other Products in the Range
The Tinberry team have more recently released their Dry Gin, where they have dialled the citrus elements right back in comparison to their Signature Gin. It boasts herbaceous characteristics from rosemary, bay leaves, and one botanical that we've not seen in a gin before: pickled jalapeno. 
How does one come to think of including pickled jalapeno in their gin? Well, we are glad you asked! When trialling new recipe ideas, Ben, Andrew and Scot had over 20 different botanicals distilled into individual glass jars. They'd then mix small amounts of each to test which botanicals combined well. They ended up distilling so many botanicals and sampling so many recipes that they ran out of glass jars and were left just one short of what they needed. Andrew raided the cupboard and found an old (and well-washed) pickled jalapeno jar, so they mixed up a couple of distillates and popped it aside in the jar for a few days. When they eventually got around to tasting, they instantly noticed a kick that was distinctly 'pickled jalapeno' in flavour. Long story short, it was a total accident, but they all loved it. It's now been released, and if you fancy trying something a little different you can find a bottle on their online store. 
As you sip on your Tinberry G&T today, the Tinberry team will be busy with the release of their new vodka. Over the coming months, they're also planning on putting rum and whisky down in barrels. More to the point though, they let us in on a little secret that they even have a third gin in the works – watch this space!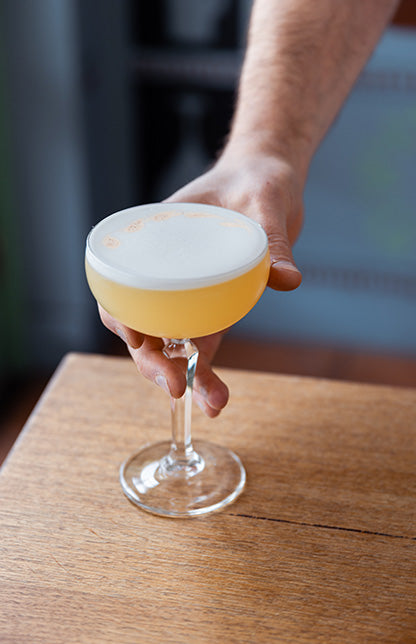 What is your favourite thing about running a distillery? 
"I love the creative freedom that it gives you to play with different flavours. A fully stocked liquor cabinet is, of course, an added bonus!" - Andrew 
The best part for me is producing spirits that are enjoyed by ourselves but also by family, friends and the general public. We have had a lot of great feedback which makes it all worthwhile too." – Scot 
"My favourite part is using science to create something that people really enjoy." – Ben 
What's been your proudest moment since the launch of Tinberry? 
"To date, our proudest moment came in April last year when we found out that we had won double gold at the San Francisco Spirit Awards. We thought we had made a pretty decent gin and our friends said the same, but to be recognised at the 'Oscars of Booze' as one of only 11 gins to win double gold from over 300 Australian submissions was incredible. 
To think that our gin, made using a self-fabricated still, was sitting alongside some of the heavyweights of the Australian gin industry made with multi-million dollar set ups was a pretty surreal moment."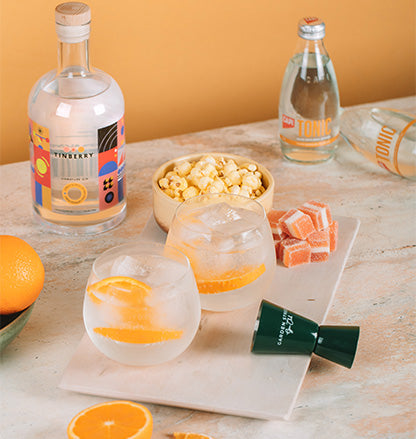 TASTING NOTES
Gin type – Contemporary
Appearance – Clear, bright
Botanicals – Juniper, coriander, orris root, cinnamon, clove, star anise, lemon myrtle, lavender, dried lemon peel, dried lime peel, dried orange peel and fresh oranges 
Aroma – Pleasant juniper, fresh citrus, sweet spice and a hint of herbal floral notes 
Palate – Juniper up front with orange citrus shining through the mid palate. Sweet spice and floral finish with a silky mouthfeel. 
Finish – Smooth, gentle and warm finish 
Our perfect G&T
• 30ml Tinberry Gin
• 90ml CAPI Tonic
• Dehydrated Orange