5 PERFECT GIN GIFTS THIS MOTHER'S DAY
While we think you should be spoiling mum every day, with Mother's Day around the corner it's an especially
good time to reflect and consider showing a little extra appreciation for the mums in your life.
Gin is just the thing for Mother's Day – and we're not just saying that because we love it! There are so many reasons why a gin gift box would be the ultimate way to show your Mum some love (or maybe overlook some overdue phone calls). Tell her that she deserves a pampering, to clock off and unwind in her favourite G&T or cocktail. Bonus points if you play bartender so she doesn't even have to lift a finger!
You can shop the Mother's Day collection, or our entire gift box range to find the perfect gift for a particular palate. Let's take a closer look at our most popular picks on offer here at Garden Street...
1. Mother's Day Tasting Box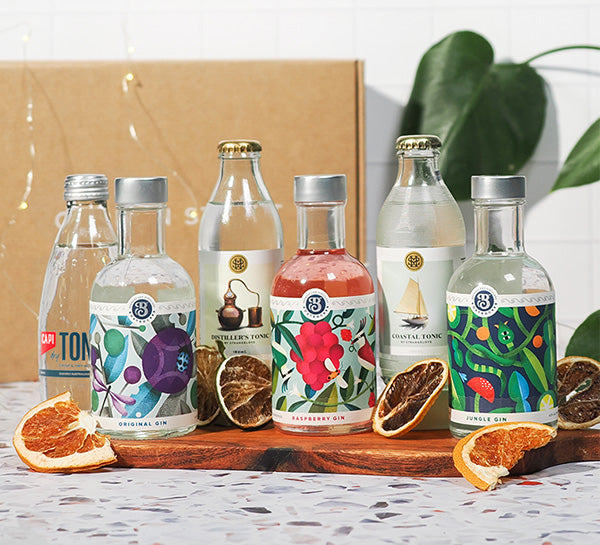 Delight your Mum with this perfectly curated premium tasting box from Boatrocker distillery.
Boasting three 200ml bottles of exceptional gins, this is the gift to delight any gin lover! Boatrocker's Original Gin is traditional yet modern with floral and citrus highlights, making a stunning gin and tonic and a killer martini.
Jungle gin is beautifully fresh and exotic, inspired by the flavours of South-East Asia. Think Kaffir Lime, Ginger, Kumquat and Lemongrass.
Finally, Boatrocker's Raspberry Gin is packed with distilled fresh fruit providing a vibrant and fresh tipple. As always, also included in the gift box are three perfectly paired tonics, garnishes and tasting notes to ensure that Mum enjoys the best of each and every G&T, just as she should!

2. Mother's Day Tasting Box with a Boozy Candle
3. Pure Folie Pink Gin Gift Box
4. Perfect Autumn Gin Gift Box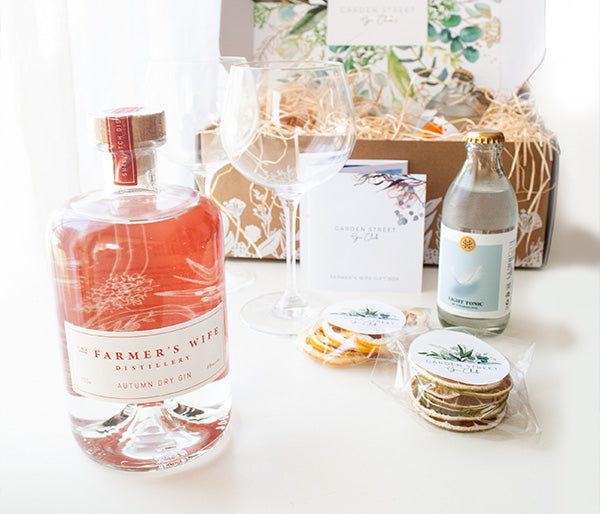 For the Mum who loves autumnal flavours, Farmer's Wife Gift Box is the way to go. Not only is it a stunning addition to the bar cart, this delicious drop is complex and delicate in all the right ways.
Thirteen botanicals including native sage, myrtle, pepperberry, and signature sugar bag honey bestow their magic upon this gin. The result is a beautifully rich spirit, at home in a traditional cocktail, yet with the complexity and softness to be sipped neat over ice. Pair with a StrangeLove light tonic, or a firey ginger beer, it's the ultimate treat to help Mum relax and unwind whatever the weather.
Complete with a pair of Plumm Stemmed Gin Glasses, the only thing missing is you, mum and some chunky ice cubes.
5. Coffee Lover's Gift Box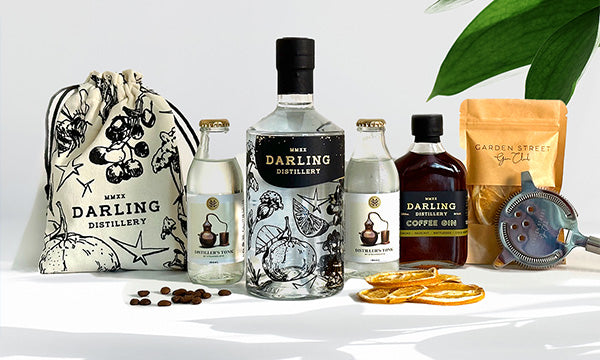 Move over, breakfast in bed! Be Mum's Darling with the Coffee Lover's Gift Box instead. Featuring Darling Distillery's delectabley smooth and creamy Signature Gin, the real showstopper is their Coffee Gin. Infused with roasted hazelnuts, wattleseeds, cold-brew coffee and a hint of dates, she'll be buzzed for a full-strength coffee gin with the decadent flavours of Melbourne.

Enjoy over ice with an orange wedge, or shake up a killer espresso martini with the provided Garden Street Hawthorne Strainer and follow along.
Still can't decide? Leave it to us to surprise her every month with a Gift Subscription to the Garden Street Gin Club, or let her choose her own adventure with our Gin Gift Card.
In conclusion, a gin gift box is the perfect way to spoil Mum this Mother's Day. With so many different flavours, garnishes and added extras to choose from, there's sure to be a gin gift box that suits her taste. The best part? If you play your cards right, you'll get to enjoy it together! So, why not treat your Mum to a night of gin
indulgence this Mother's Day?