BANKS & SOLANDER DISTILLERY
WRITTEN BY BRITNEY KIDD
ABOUT THE DISTILLERY 
Located in the back streets of Botany in New South Wales, you'll find Marty and Edith Svehla's recently renovated home, a sizeable shed in the backyard, and Frank the Distillery Dog. As with many craft distilleries, this set up was a long time in the making for the incredible Banks & Solander Distillery. 
After 14 years of marriage, the vague concept of starting a distillery came to Marty and Ed in 2014 and soon blossomed. What was initially an idea on paper became more serious in 2015 when the couple began the process of applying for licences, seeking advice from fellow distillers, buying stills and building their distillery (the big shed in the backyard). 
Soon after, Marty and Ed expanded their distillery into the garage with a hand-made copper pot still and increased production. With all of this humming away in the background, the pair juggled full time day jobs, raising their children, and a house renovation on top!For a while, the distillery became their temporary home and the whole family moved into the 100m2 shed to live. Thankfully, they've since settled into their lovely house, and the ground floor of the distillery remains home to their two stills, a botanical/bottle storage room, an office and three display motorbikes instead. Although moving the whole family into a shed may sound overwhelming for some, Marty wondered what could possibly be better than having stills and motorbikes in the kitchen and dining room!?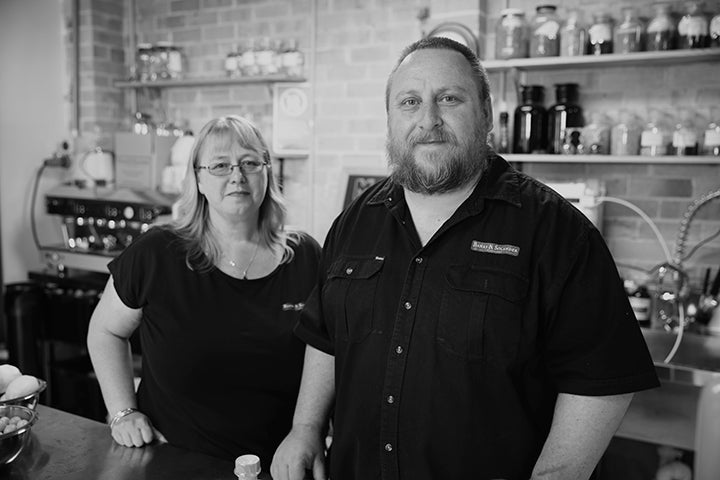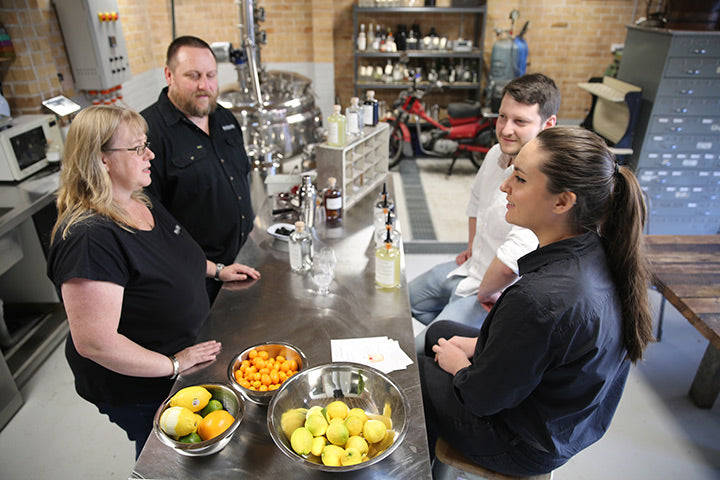 Since then, it has been all about introducing Banks & Solander to the masses. As with many new distilleries, COVID was just around the corner and the team had to learn how to grow and manage a new business in completely unchartered waters. This naturally presented challenges, but also created some welcome opportunities. Ed and Marty were lucky enough to expand, and welcomed their newest team member Sam Stefani to the business in 2020. 
Thanks to Marty's love for food and his background in biomedical engineering, he is the Head Distiller and is involved in everything from designing and building stills, to testing recipes and running day to day distillery operations.
Meanwhile, Ed runs the administration along with anything and everything else that needs doing; she is often setting up photo shoots, running their cellar door or managing the warehouse. Finally, newbie Sam has taken on the role of Brand Ambassador and Assistant Distiller. With a Bachelor of Science in Fermentation and a minor in Chemistry, you'll find Sam assisting with production, new recipe development and working to increase brand awareness.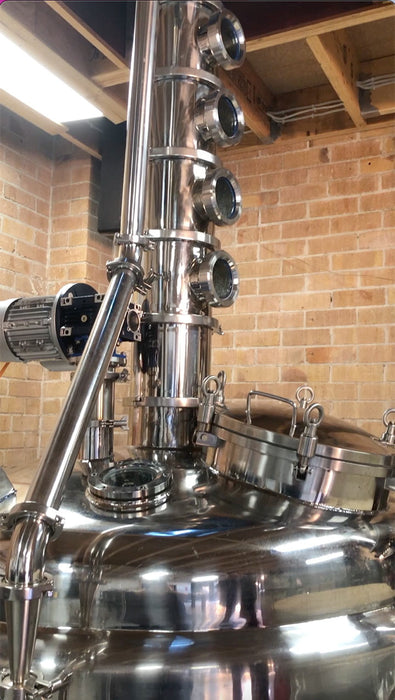 For some of you, the names Banks and Solander may be ringing a bell. Sir Joseph Banks and Dr. Daniel Solander were famous botanists who collected and catalogued hundreds of samples of Australian flora from Botany Bay. Many places scattered around the region are named after the duo, and with a clear interest in native botanicals, Marty and Ed though it fitting to name the distillery after them too! 
It's no surprise that Banks & Solander Distillery have also drawn upon Botany's deep-rooted history when naming their stills. Lizzy, their 100L still, is named after Dr. Daniel Solander's long-lost love. Their 500L still, Lady Banks, honors both Joseph Banks' wife and sister. Word has it that the women were a little on the rotund side, so it seemed a good fit! Interestingly, both stills are modular and can be configured in a variety of designs to create a wide range of products. With such little space in the distillery for additional stills, this ingenius setup ensures the team isn't as restricted with what they can produce. 
If you fancy paying Banks & Solander a visit, guests can take a tour of their cellar door and taste their lineup of products. It's not a shiny, fancy setup like some others, but guests are warmly welcomed into the real and raw environment, and may even be lucky enough to see Lizzy and Lady Banks in action.
It seems nothing really phases the Banks & Solander team; each day brings new challenges which they say keeps life interesting. They're continually looking to grow their distillery while bringing new and exciting products to the market for everyone to enjoy. More on that later.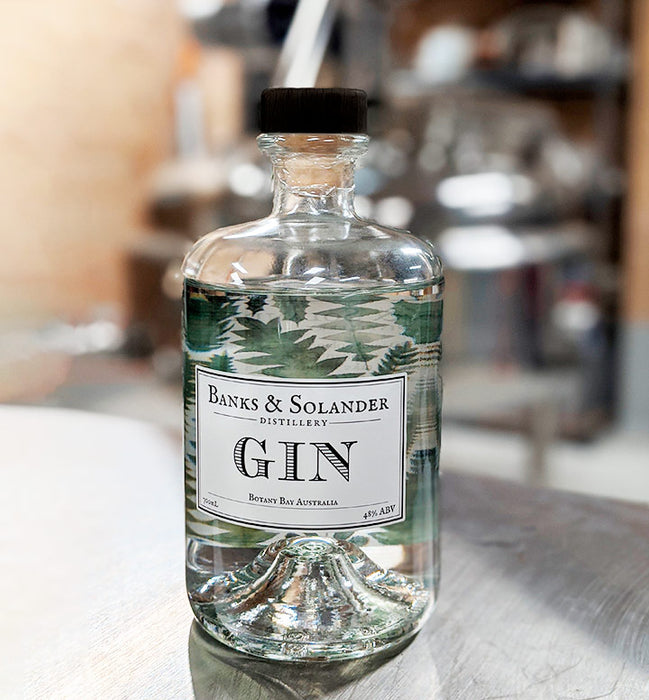 ABOUT THE GIN
Banks & Solander's Signature Gin pays homage to the original Banks and Solander and the flora around the Botany area. Aside from featuring the Banksia leaf (named after Sir Joseph Banks) on their gorgeous label and using apothecary style bottles, it's clear that a lot of careful thought has gone into creating such a unique flavour profile. Using traditional pot distillation techniques, interesting native botanicals like strawberry gum, macadamia and wattle seed are combined with more traditional botanicals such as orange, Tasmanian pepper berry, coriander seeds and cardamom. From here, they're combined with a neutral base spirit and left to steep overnight. The following day, the botanicals are gently distilled to create the final product. The combination of orange and strawberry gum gives rise to the gin's floral and citrus notes, while the cardamom and roasted wattle seed deliver a spicy, almost chocolatey, body. The gin finishes with a pleasant linger on the palate from the lemon myrtle and pepper berry. 
After trialling over 100 distillations, Banks & Solander have settled on a cracking recipe which has won them multiple awards. Their Signature gin can be enjoyed neat and also holds its own in cocktails. Mixing it with citrus or berry-based flavours brings out the botanicals, and for those a little more adventurous, we'd recommend trying their Signature Gin Mussels recipe! 
OTHER PRODUCTS IN THE RANGE 
With their modular stills, it's no surprise that Banks & Solander has a varied range of products! Their award-winning Limoncello is made the traditional Italian way using both the peel and the juice from lemons (foraged from the local Botany area, of course) and the inclusion of native lemon myrtle adds a uniquely Australian twist. They have also produced a bright and citrusy small-batch Kumquatcello, inspired by Kumquat liqueur from Corfu. For those who enjoy a good espresso martini, try Banks & Solander's amazing Noir Coffee Liqueur. Using local freshly roasted beans and a variety of botanicals, they've created an award-winning spicy coffee liqueur that is like no other.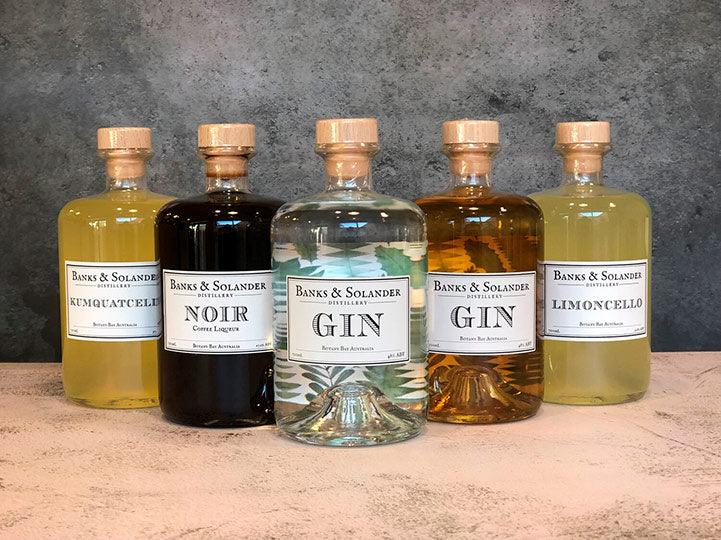 Finally, would we really be Garden Street if we didn't touch on their Endeavour Aged Gin? Using a combination of Australian native and traditional botanicals such as Valencia orange, juniper and oak, it's an incredible citrus-forward gin with a toffee finish that is reminiscent of a Rye Whiskey in flavour. 
With such a taste for innovation and a strong commitment to experimenting with new and exciting flavours, it's no surprise that Banks & Solander have some interesting products in the making. Keep an eye out for a Nocino (a hazelnut liqueur), Rum, London Dry Gin and Vodka – all are set to be joining the range very soon! Those configurable stills are definitely being put to good use.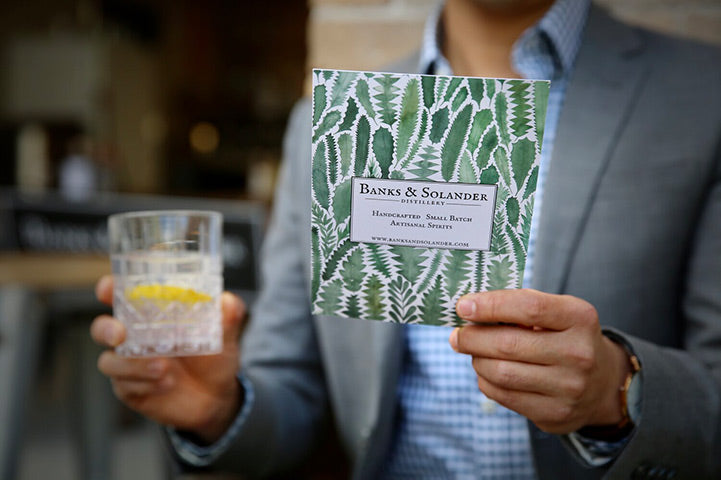 TASTING NOTES
Gin Type – Contemporary
Appearance – Clear, bright
Botanicals – Navel orange, wattle seed, strawberry gum, Tasmanian pepper berry, lemon myrtle, juniper, orris root, star anise, angelica root, cardamom, coriander seed, macadamia nut and cassia  
Aroma – Navel orange and strawberry gum bring bright native floral and citrus aromas, hints of juniper and aniseed  
Palate – Star anise, cardamom and roasted wattle seed create a rich, spicy, roasted body, akin to dark chocolate or coffee   
Finish – A pleasant linger on the palate from lemon myrtle and pepper berry 
THE PERFECT BANKS & SOLANDER GIN & TONIC
- 30ml Signature Gin 
- 90ml Fever-Tree Elderflower Tonic 
- Dehydrated Orange 
Also try garnishing with fresh raspberries!
Featured in the Gin Club
Sign up to the club for a complete curated distillery experience at home.
Learn more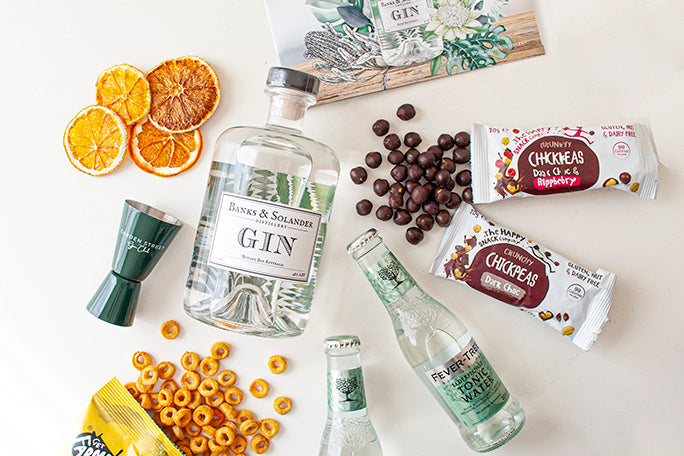 LATEST
gin blog
gin blog
Garden Street Collector's Series Edition One
This gin is a nod to you, our members. We've tasted hundreds of delicious Australian gins over the years and every year our tasting panel has the (really terrible) job of choosing their 12 favourite gins to share with you. It's tough competition and they're a very picky bunch!
Twelve months ago, we floated the idea of making something exclusively for our members; something one off and never to be repeated. It needed to be something for the collectors to add to their gin shelves and moreover, we had to make a product we were proud to share, and one delicious enough to get past our tasting panel!
> READ MORE