How to Host a Winning Gin Tasting Event at Home
WRITTEN BY REBECCA WELLWOOD
Whether you want to host a get together for a special event such as Mother's Day or try a new experience in the comfort of your own home, a gin tasting event can be a fantastic way to broaden your usual preferences in a fun way. And it's simple to put together even if your event ends up looking wonderfully complex after you're done using our tips to elevate your experience. 
At its core, you need a few different gins, decent glassware, and alcohol-loving friends or family. 
WHAT YOU WILL NEED
Suitable Glassware: for the tasting portion, choose a curved glass style (rather than wide rims with straight walls such as tumblers) to hold flavours and fumes. For afterwards, you may want to blend your own cocktails, so have a couple of staple glassware handy such as a coupe, highball, martini or copa (balloon) glass. 
Tonics for pairing: offer a variety of tonics to experiment with pairings and see how different flavours are balanced, or present more strongly. You might be surprised with what does (or doesn't) work well! 
A small bucket: more specifically a spit bucket, known as a spittoon – sometimes it is needed! 
Palette cleansers (AKA non-alcoholic drinks and snacks): OK let's get serious about snacks. You can have any manner of them – popcorn, cookies, chocolate covered nuts, chips. However, it's always a good idea to have something neutral like plain crackers to finish off a snacking session to reset just before trying another gin though. Or for the more serious (or full types), just sniffing coffee beans do an excellent job, too. 
Cards for tasting notes: it can be as simple as offering plain cards to leave it open to your guests to make their own decisions about what to write. Or you can find ideas or templates on the internet. Good templates should have specific areas for things like appearance, smell, taste and after-taste, plus a free area for additional notes. 
HOW MANY GINS?
Keep it simple. We recommend serving no more than about four gins at a maximum. 
While we're talking about the gin options, now's a good time to mention choosing different gins and their origins. If you're looking for some inspiration, check out some of our previous gins on the blog here, which also includes our handy tasting notes! Or you can always browse a physical store and read the back of the labels of gin bottles!  
Look for gins that contain different botanicals, gins that are made by different processes, or you could try gins from outside Australia although we love supporting the variety this country has to offer. A few selection ideas might be a London Dry, Modern Australian, Contemporary, Botanical, or Tropical Gin. 
Fun tip: if you have half a small-ish group, recommend that everyone add a bit of mystery by bringing their own bottle of gin. 
THE TASTING
We suggest starting off with the gin neat (for the tasting portion), but that doesn't mean you can't mix it up (literally) and add ice, mixers and whatever you fancy afterwards to create your own unique cocktails to end the night. And don't ruin the surprise – read the label afterwards!  
A little bit goes a long way. Depending on how many gins you're tasting, consider starting with a half shot (15ml) or a single shot (30ml). If you've sampled a gin (and potentially tonic) and have had enough, don't force yourself to finish the glass if you don't want to. That's what the bucket is for! Taste with curiosity and an open mind, but also remember you have 2, 3, 4 more gins to come that you want to appreciate as well. 
Look, sniff, then try a small amount. Use your senses to experience the liquid. Notice the taste and texture on your tongue and inside your mouth. Are there any secondary flavours that arise? Note anything interesting down so you don't forget or become confused after a few drinks! 
You can score them however you want (you're in charge of your own Tasting after all). It could be based on characteristics in the aroma and palate from your tasting notes. Score in numerical order of preference. Once completed, discuss and compare amongst yourselves.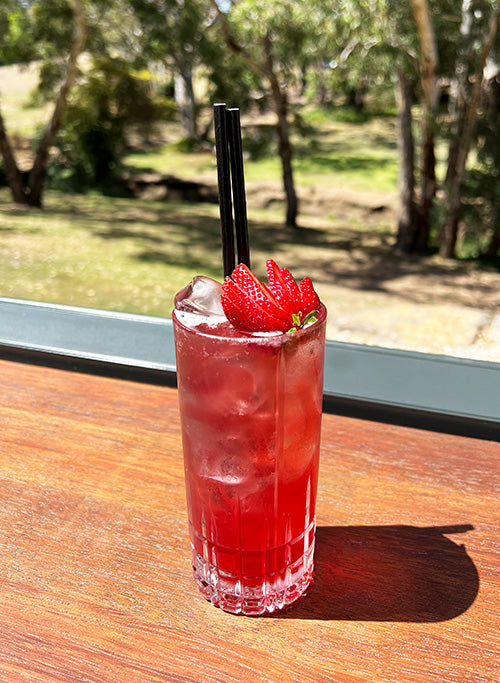 MIX IT UP WITH A COCKTAIL TO FINISH
End on a fun note; put a twist on a classic or make your own cocktail blend. You can try these gin-based cocktail staples of varying ease/difficulty if you're new to cocktail-making:  
– martini 
– gin & juice
– jam cocktail
– basil smash 
– negroni 
– mulled cider 
– Tom Collins 
If you're planning cocktails at the end, think ahead about what tools your favourite cocktails might call for. This means you may be interested in having these on hand if budget permits: 
- Lots of ice. The bigger (the cube size) the better as bigger cubes will mean a slower melt, so your drink won't be as diluted 
- Cocktail shaker 
- Jigger 
- Fine mesh strainer (like a tea leaf one) 
- Muddler 
...OR TRY AN EASY MASTERCLASS WITH US!
While we think hosting your own gin tasting event at home is fun, we love our monthly online gin tasting masterclass, which starts at a convenient time after work or once the kids are tucked into bed. Maybe you even want to try one as a guide before hosting your own! The head distillers are the best people to ask questions and get juicy insights about their gin.  
Classes usually involve gin tasting and tasting notes; making a G&T; a chat about the distillery of the month; cocktail making; and more! Everything you need to participate (except ice and your favourite glass) is shipped to your door with our monthly gin club subscription. Garden Street Gin Club Members attend our masterclasses for free. Join us and come along for our next one! Look forward to having you there.