BANKS & SOLANDER SIGNATURE GIN MUSSELS
This recipe makes enough for 2 as a light meal, or for 4 as an entrée. A perfect pairing with a Gin and Tonic! 
You will need:
- 2 kg fresh mussels, scrubbed and de-bearded 
- 4 tbs butter 
- 2 shallots, thinly sliced 
- 4 cloves of garlic, thinly sliced 
- 2 bay leaves 
- 1 tbs cracked black pepper 
- ½ cup water 
- ½ cup Banks & Solander Signature Gin 
- Zest from 1 lemon 
- 2 tbs parsley, chopped 
- Crusty bread 
- 2 tablespoons of cream or crème Fraiche (optional) 
Method:
1. Melt the butter in a large pot over medium-high heat. Sauté the shallots and garlic for 3 minutes. Add the bay leaves, pepper, water and gin to the pot and bring to a boil (see note). 
2. Add the mussels and put the lid on. After 4 minutes, gently stir pushing the unopened muscles to the bottom and the opened ones to the top. Cover and steam for another 4 minutes. 
3. Remove from the heat and discard any unopened mussels. If using cream, stir through. Top with lemon zest and parsley. 
4. Serve immediately in a bowl with crusty bread and a G&T! 
Note: You only need about 2.5 cm's of liquid in the bottom of your pot as you need to steam the mussels not boil them, adjust as needed with your pan size. Do not eat any unopened mussels. 
Featured in the Gin Club
Sign up to the club for a complete curated distillery experience at home.
Learn more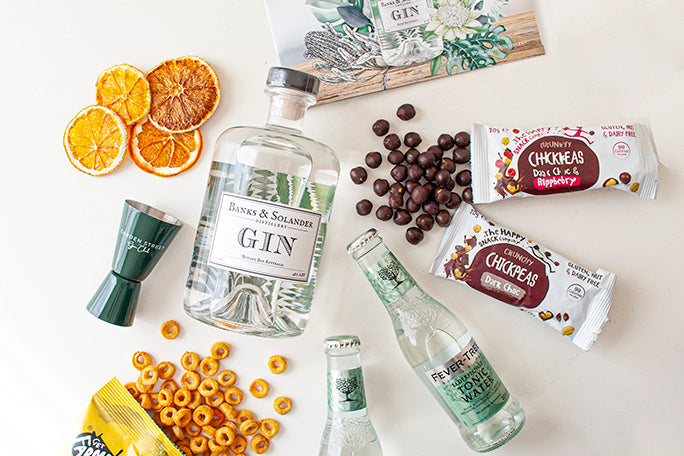 LATEST
gin blog
gin blog
Garden Street Collector's Series Edition One
This gin is a nod to you, our members. We've tasted hundreds of delicious Australian gins over the years and every year our tasting panel has the (really terrible) job of choosing their 12 favourite gins to share with you. It's tough competition and they're a very picky bunch!
Twelve months ago, we floated the idea of making something exclusively for our members; something one off and never to be repeated. It needed to be something for the collectors to add to their gin shelves and moreover, we had to make a product we were proud to share, and one delicious enough to get past our tasting panel!
> READ MORE